C64 Xiangqi
You can play C64 Xiangqi game online without installing any software. You only need a modern browser to enjoy this Commodore 64 retro classic game.
Xiangqi game data
C64 game name: Xiangqi | Release date: 1988 | Publisher: Markt & Technik | Game media type: prg | Language: en
User rating of this C64 game (you can also rate it under the C64 emulator):
About Commodore 64 Xiangqi
What a pleasure. Phuoc, the author of the game sent us the description that should help you to enjoy the game. So here it is:
Joystick (port 1) to navigate the cursor and fire button to select.
<F1> Toggle between Chinese characters and symbols
<RETURN> Restart the game
<F7> Display all possible moves of the selected piece.
All the moves are explained here: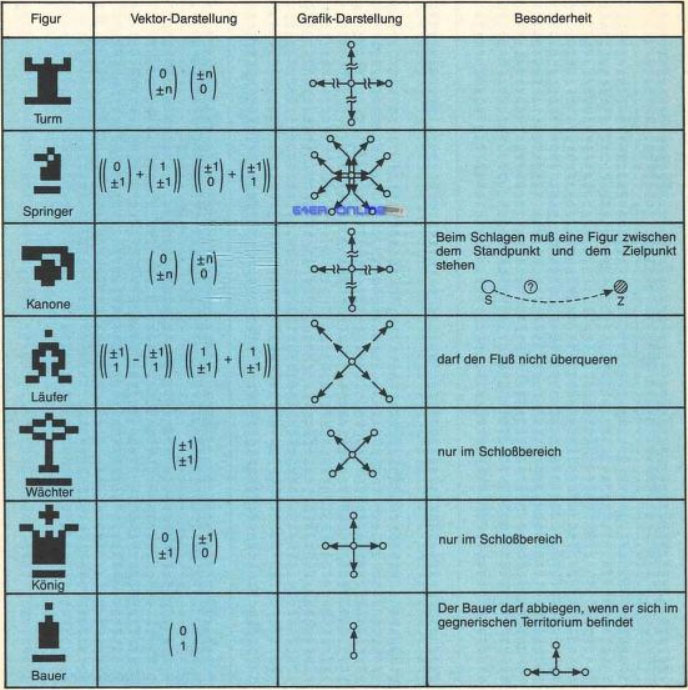 Source: 64'er Sonderheft 17
Last, but not least here is the list (matching the order of the German magazine above) with the translation and the corresponding links to an English description:
You can also watch a video about the program with demonstration and technical background information below:
Disk version download: C64 xiangqi
In order to play Xiangqi online, click on the start button located below the Commodore 64 emulator window.
This file type doesn't support auto Joystick port detection. Please choose 'Joystick Swap Ports' if needed.
Xiangqi C64 keyboard mapping + gamepad support
C64 emulator joystick - keyboard mappings
| JOYSTICK 1 | KEY | JOYSTICK 2 | KEY |
| --- | --- | --- | --- |
| LEFT | CURSOR LEFT | LEFT | A |
| RIGHT | CURSOR RIGHT | RIGHT | D |
| UP | CURSOR UP | UP | W |
| DOWN | CURSOR DOWN | DOWN | S |
| FIRE | LEFT CTRL | FIRE | LEFT SHIFT |
Xiangqi touchscreen joystick emulation
You can play C64 Xiangqi on mobile phones and tablets, too. Just tap the 4 corners and the middle position.
Xiangqi Gamepad/Joystick support
Connect your USB gamepad or joystick to your computer. The online C64 emulator support 1 or 2 Gamepads + Paddles (axes 3/4).